Originally posted on 19May10 to IBM Developerworks (9,582 Views)
TeleManagement World conference, 2010. Nice France.

Keynote Speaker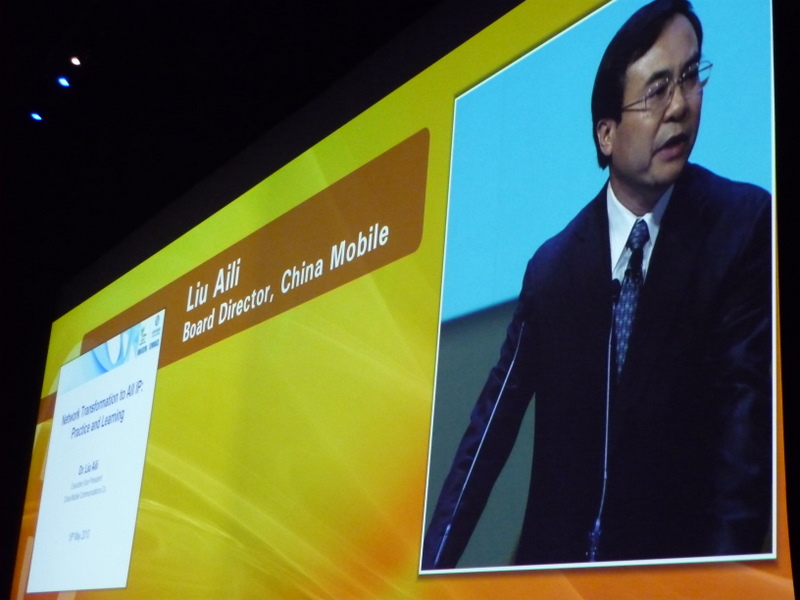 Lui Aili, Board Director for China Mobile presented this morning at the TeleManagement World conference in Nice, France. Mr Lui spoke of China mobile's challenges. For them, Internet based competitors posed a real threat, despite the size of China Mobile (more than 528 million subscribers) they see companies like Google (with GTalk) and Skype, but also device manufacturers such as Apple and Nokia as providing on device applications and value added services on their own devices which reduces China Mobiles function down to a bit carrier. As Mr Lui put it, these companies "moved our cheese" 😉
For China Mobile, to compete with these Internet based companies, they needed to radically reduce their costs – to do this, they started a project about six years ago to move to an all IP network from their existing legacy network. This architectural move reduced their Capex by a massive 68%. The reduction was through reduced administration and management costs (by re-organising their operational management system and spreading it across all of their IP networks)

Strategy for IP transformation

China Mobile's network services are predominantly occupied by low value services – straight 2G services. They undertook a detailed analysis to look at network utilisation and management tools to better manage their network and control the customer experience. For them, ALL IP is not the same as All-in-one IP. they are separating their IP customers into high and low value services with security barriers in place – they have a separate virtual network for high value services and for low value standard services. He did not state it directly, but I took it to mean that they have different Service Level Agreements (SLAs) associated with the high and low value services.

From a network administration perspective, they have implemented network management agents at as many points as possible – including every router to enable efficient and rapid fault discovery and correction.
For China Mobile, IP skill levels among their staff was a key success factor – Mr Lui spoke of it multiple times, including implementing comprehensive training schemes for their staff.
"IP Transformation has been a huge task… the job is fare from finished" Mr Lui said. Despite this, he also said that right now, almost all of their voice traffic is already carried over their IP infrastructure
In summary, Mr Lui made the following points:
IP transformation simplifies the network, but males O&M more complex. .
Operators must invest in OSS systems to make IP networks and transformation more efficient.