We've been back from Kuala Lumpur for a few weeks now and while we didn't win an award for our Catalyst project (think of catalysts as Proof of concepts with participants from a variety of vendors and supported by multiple telcos), we did get a log of interest in it.
The Zero Touch Partnering catalyst for Kuala Lumpur was the third stage of the project where we extended the system to an IOT model introducing a new vendor (Unico) to the project with their eSIM entitlement server.
The basic premise for the catalyst is to enable telcos to deliver products and capabilities that are actually provided by a third party WITHOUT the need to integrate systems, build integrations or develop code – in fact without IT involvement at all. The way we can do that is to use the TMForum OpenAPIs to:
Determine what products a 3rd party is prepared to sell to me (using the Product Qualification TMF679 OpenAPI)
Fetch the product specifications that I need to successfully order that 3rd party product (using the Product Catalog TMF620 OpenAPI), then
Order the 3rd party product from the 3rd party (using the Product Order TMF622 OpenAPI)
All without IT getting involved…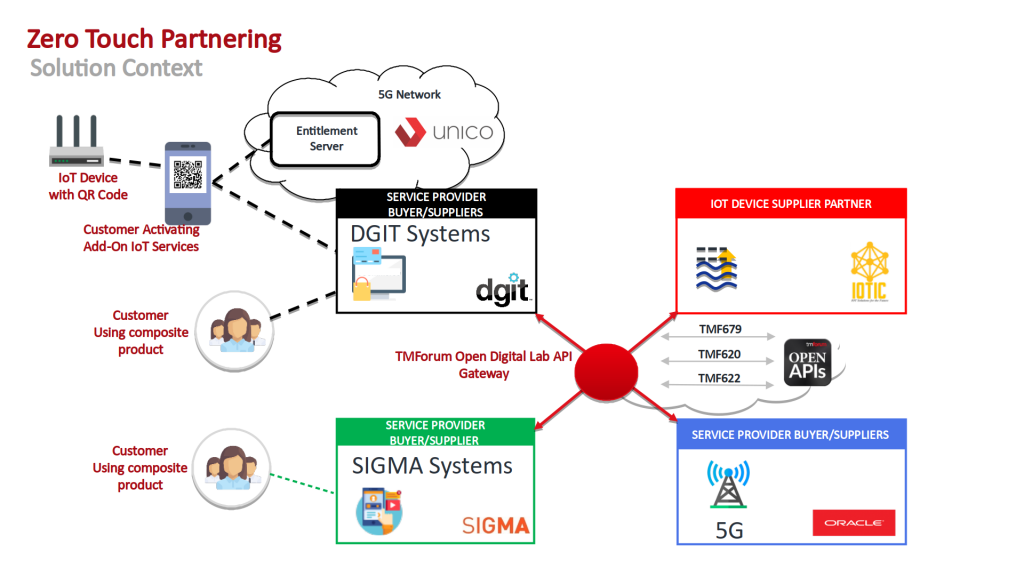 I recorded a short video presentation about the catalyst
If you want to see a demonstration of the catalyst in action – onboarding 3rd party products live, then adding them to a product offering and then buying the new product offering including onboarding of a water level sensor via a QR code to activate the eSIM for the device, then check the video below:
I think the ZTP catalyst is a great demonstration of why standards matter – when a telco says to me "What's in it for me?", these are the sorts of examples I like to show – that demonstrate standards in action and make it easy and fast to integrate different vendors without the need for lots of IT involvement.